IV Vitamin Infusions
Consists of a variety of vitamins, minerals, antioxidants and other nutrients that work together to produce significant results.
Choose your IV Vitamin Infusion from the menu below.
Ingredient Benefits
Ascorbic Acid
Antiviral
Antibacterial
Antihistamine
Combats Fatigue
Increases Wound Healing
Reduces Oxidative Stress Loads
Vitamin B-Complex
Improves Mood
Increases Energy
Increases Metabolic Function
Decreases Depression Symptoms
Increases Brain Function
Boosts Antioxidant Protection
Magnesium Sulfate
Relaxes Muscles
Muscle Pain Relief
Nervous System Support
Aides in Blood Sugar Maintenance
Improves Sleep
Reduce and Prevent Migraines
Reduce Anxiety
Decreases Inflammation
Zinc
Cellular Metabolism
Protein Synthesis
Balances Hormones
Benefits to Wound Healing
Biotin
Thickens Hair
Improves Skin
Strengthens Nails
Aides in Rebuilding Tissue
Boosts Energy & Mood
Aides in Thyroid Function
Can Aide in Weight Loss
Amino Blend
Boosts Metabolism
Improves Energy Levels
Increase Endurance
Aides in Burning Fat
Vitamin B12
Increase Metabolism
Increase Energy
Aids in weight loss
Improves Sleep
Boosts Immune System
Vitamin D3
Improves Mood
Improves Bone Health
Boosts Immunity
Improves Heart Health
Can Aide in Weight Loss
Glutathione
Powerful Antioxidant
Slows the Aging Process
Increase Energy and Endurance
Decreases Inflammation
Boosts Immune System
Detoxes the Body
Vitamin Injections
Intramuscular Vitamin Injections
Vitamin B12
Boost your energy with this quick injection
$30
Vitamin D3
Combat Seasonal Depression & increase bone health with this quick injection.
$30
Tri-Immune Boost
Immune Boost is a power-packed immunity blend made up of Glutathione, Ascorbic Acid, and Zinc.
$30
IV Infusion Add-On
Please ask us about these additions to your IV Infusion!
Toradol
Anti-inflammatory which helps relieve pain and inflammation
$20
Zofran
Combat nausea with this prescription grade anti-emetic
$20
Glutathione
Add this powerful antioxidant with many health benefits, including detoxification, free radical removal, immune defense and more.
$40
Please note: We require a preemptive health screening questionnaire and assessment with our licensed medical professionals. For quality & safety, we are selective with regards to which specific symptoms and conditions are appropriate for treatment, and certain health conditions could disqualify you from receiving treatment. If you have symptoms that are not noted, please contact us at info@hydratestations.com to inquire about customizable IV therapy solution.
Hydrate Your Health with an IV Vitamin Infusion
BOOK NOW
Now Offering Concierge Service
Let us come to you or your group.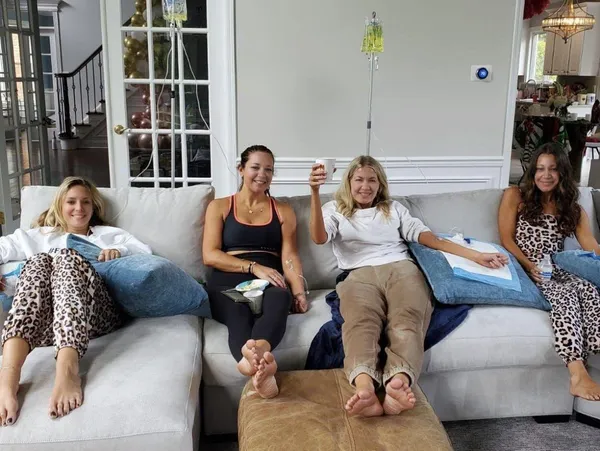 Why Concierge IV Therapy?
– Reduce dehydration and fatigue at outdoor and sporting events.
– Provide staff with a memorable team-building experience.
– Care for your guest's and wedding party before and after your special day.
– Recover from a night out with our hangover drip.
$75 Concierge Service Fee May Apply
Call To Book: (605) 791-3750